Smoothies have changed my life - big statement I know, but I am sticking to it!!!
In 2015 I commenced my studies to become a certified health coach with the worlds largest nutrition school - IIN [Institute of Integrative Nutrition]. This was a journey that ultimately would change my life for the better. A journey that I was not prepared for......I was not prepared for the burst of healthy energy that would enter my being as I was cleverly coached and inspired to challenge my thoughts and actions, and adapt a healthier view.
The most memorable part of my journey during my studies would have to be the challenge we were set to add a delicious smoothies into our daily diet. This challenge was set after an inspiring tutorial from the master of juices himself Joe Cross. Joe at the age of 40 was 'fat, sick & nearly dead' he documented his journey from a state of total poor health to incredible health all from incorporating nutritious smoothie into his diet. His approach was a lot more drastic than mine, but I am happy to say that by adding a daily smoothie into my diet, I felt healthier, my skin loved it and I had so much more energy.
I highly recommend watching Joe's documentary, it is very inspiring and his journey
is amazing.
From this feeling of health, I began developing recipes, running smoothie challenges and posting lots of delish smoothie recipes. I soon became popular for my smoothie recipes, and I am often invited to workshops to run smoothie masterclasses.
This weeks blog I have decided to share with you 3 of my all time fave smoothie recipes. These recipes are my 'go to' recipes and would often form part of my weekly repertoire. I challenge you to try these delicious blends, they have been tested an tried by thousands - the numbers don't lie!!!
Have fun blending & share with me your thoughts!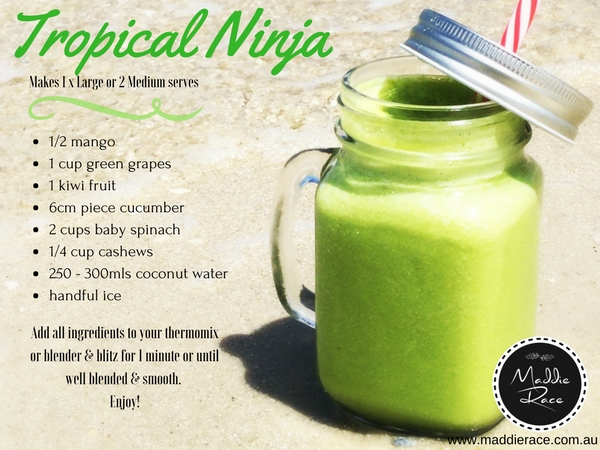 Get blending lovelies & don't forget to share the love on insta or facebook!
PS: I am currently conducting a survey to help me understand the needs of mums, would you please share 2 minutes of your time & complete this survey and please share it amongst your mum networks? Thank you xx
Happy Healthy Kids, what help do mums need?
Have a great week, and don't forget to cook with love and eat for health!
Maddie x